What features must an ideal learning management system have? I suggested several technique traits.


How to create the best LMS

What is the main fear about online education for an adult audience? I think they are afraid of a lack of motivation. They can buy a course, study till the middle of it. And then they can stop. It is bad. The course is valuable, the teacher is wise, topics are interesting. But they quit and feel self-pity. How should we create an e-learning platform to solve these problems?



E-learning motivation

1. Give your students the opportunity to share their progress on social networks. Even more: encourage them to share! Let them post: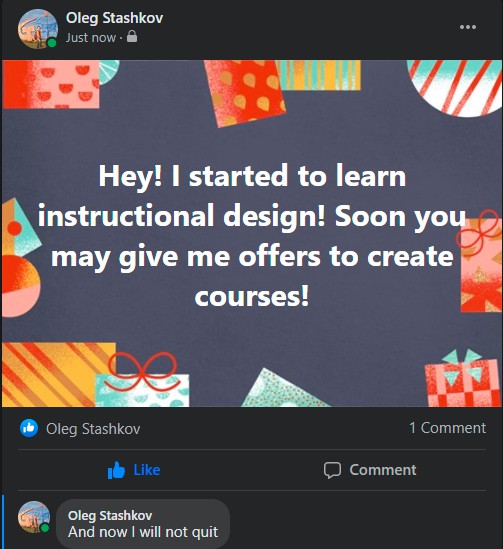 ​​Of course, posts will contain links to your site or application. So you will get free ads! If a student`s feed has a such post, the student may not quit your course. He will know, that his friends and followers know about his education. When they meet offline next time, friends will definitely ask about it.

2. What about notifications? Notifications can remind students to learn the next lesson or do homework. I think there should be the opportunity to set up own schedule for each student. So notifications will appear at a good time.

3. Also, private messages can help to keep motivation. The teacher, or curator, or even instructional designers themselves, can talk with students. Hence, your e-learning platform should have the opportunity to send messages to each other. So teachers can ask students about their progress, feelings, or mood.

4. LMS should offer students to go through questionnaires or surveys.


​Answers should tell about motivation. It needs to give questionnaires at the beginning and in the middle of the course. So teachers would change something if it needs.
5. Also, students can talk to each other. They can share their successes and failures. Especially failures! It will calm down students, who think they are the worst. So, LMS must have the opportunity to leave messages under or near the lesson. Or make special chat for students in any messenger.

The most valuable LMS feature
Ok, it is enough for motivation. Now it is time for the most interesting feature as I think. How do you think, how do people choose online courses? Look: almost all information is in open sources. Ok, instructional designers build courses in a defined sequence. But students need practice and somebody to help with it. Ok, we give them teachers. But they want to converse and share success. They do not want to set up new applications to the phone or register at one more site.

What should we do?

I think the most interesting idea is to build a learning management system inside of a social network. I mean application, which exists within Facebook, for example. It allows staying at friendly, well-known interface or environment. No needs to get used to new buttons, new places for video, or new "paste here anything". You can think, that social networks will distract from education. But students can switch off notifications and any other distracting factors. This idea has a lot of discussions and questions. Maybe, I will write it later.

LMS analytics and monitoring


​​We should know about the process of learning, shouldn`t we? I talk about watching lessons till the end, doing exercises or homework. If you ask "how to create a lms", you should ask "how to measure courses result". A perfect e-learning platform must have measurement tools for an instructional designer, marketing, and others. If we do not know where students have problems, spend a lot of time, and quit, we will not sell our course anymore.

You have read the most important LMS features, as I guess. Thank you for reading!